SORRY, WE NO LONGER OFFER THIS WORKSHOP
Please contact our partners, Narativ, direct if you are interested in this workshop. They offer various dates through the year along with in-house options.
Dan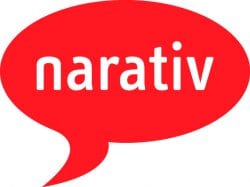 Milne & Jane Nash, Directors & Lead Trainers, Narativ
Narativ is based in London and New York. With a background in advocacy, the foundation of their work is in using stories to make powerful connections between people – to inspire, to influence, as a call to action.
Since 2004 they have been working with individuals and organisations worldwide to teach them how to make the most powerful use of their stories. Jane Nash and Dan Milne are theatre practitioners who have been working as coaches in business for over 20 years. They worked with NEF Consulting on the Knee High Challenge project for The Design Council. Narativ's clients include The Fairtrade Foundation, Open Society Foundations, The Finance Innovation Lab, International Federation of Transport Workers, SAID Business School, HBO, Turner Contemporary and The Design Council.
---