The Happiness at Work Survey is a quick, easy and affordable tool for organisations to measure and receive real-time feedback on how their strength areas and risk areas link together.
We work with private, public and third sector clients who are looking beyond physical health, stress management or employee commitment to find the drivers of rewarding jobs and great places to work.
The survey is uniquely grounded in the latest psychological findings and the dynamic model of wellbeing developed by NEF for the Government Foresight project on Mental Capital and Wellbeing.
Key Features
Each question has been carefully selected to reflect the evidence on what impacts wellbeing at work and has been tested with thousands of respondents. Its features include:
Instant results for real-time feedback.
A simple interface presenting results in traffic light colours.
National benchmarks automatically built into the questions, providing individuals, teams and organisations with an anchor point to understand and compare scores.
Tailored results-based advice to mobilise collective ownership, skills transfer and action.
Independence and confidentiality.
We can add bespoke or KPI questions and filter by chosen demographics.
Using data showing how positive, satisfied, competent, resilient, engaged and valued people feel in their daily working lives, we have placed people – and their experiences – at the core of the Happiness at Work Survey.
Every survey licence is valid for one year.
Are You Happy at Work?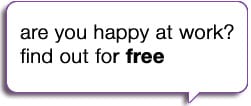 The Happiness at Work Survey is easy to understand and fun to use.
In just 10 minutes, you will:
Be seeing your happiness at work in colour
Exploring your best and worst scores
Learning about what action you can take
Improving wellbeing at work is a journey which begins with better understanding as our starting place. Carving the space in your working life to do the happiness at work survey will help you to see what is and what could be.
What is in the gap?

Do the Happiness at Work survey to find out.
Survey Options
Contact us to see how the Happiness at Work survey can be used to help your organisation achieve its goals.
We have identified three broad categories of survey support, outlined below.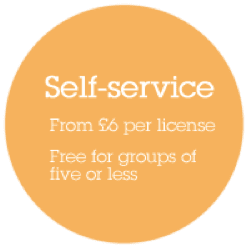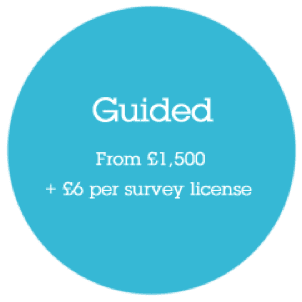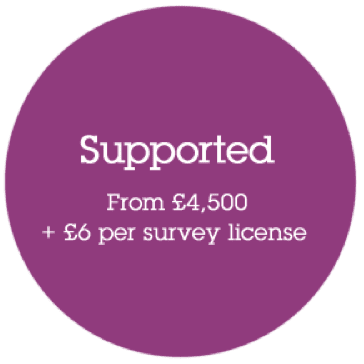 Why the Happiness at Work Survey is different to engagement surveys
The most commonly used staff survey is an engagement survey. Yet research has found that 80% of the UK population who have undertaken a staff survey say it has made no improvement to their quality of life at work1. Why is this?
Organisations tend to give three main reasons for looking beyond engagement surveys:
High engagement scores do not reflect the 'general feeling on the ground'.
An employee's sense of their own wellbeing adds explanatory value to straightforward engagement surveys when it comes to understanding workforce productivity levels.
Engagement surveys are increasingly met with scepticism by employees – who think their views are being sought solely for the benefits of the organisation.
So, what sets this survey approach apart?
The research and statistical methodologies behind the survey are based on a decade of work to understand how to capture people's feelings about themselves and the world around them and how to facilitate change to improve people's wellbeing.
The tool places people – and the elements known to support happy and rewarding work lives – at its centre. It looks at the whole system – the resources people bring to the job, the health of the organisation and how people experience day-to-day working life – so it can identify where and how to generate most value.
1 Data is based on a robust and representative sample of the UK workforce in October 2011. The question asked, "Do you feel the staff survey made a positive difference to your working life?" Possible answers included: "I have not done a staff survey"; "It made my working life worse"; It made no difference at all to my working life"; It made my working life a bit better"; "It made my working life a lot better".
Our Partners
NEF Consulting works with a range of partners on wellbeing at work who support organisations to better understand how to make their place of work a happier place.
Our key partner for wellbeing diagnostics is HappinessWorks, the supplier of the Happiness at Work survey and the developer behind the strongest wellbeing analytics tools on the market. For results interpretation and post survey support, we partner with different organisations, depending on the need identified at the diagnostic phase.
We are always keen to connect with individuals and organisations who share our vision or want to join us on our journey to improve wellbeing at work.