There are ten elements to consider as part of any proving or improving process.
Summary of each element
Your motivation. Identify the key reasons why you want to engage in a proving and/or improving process, your expectations about the process, and the appropriate tools or methods.
Your vision. Set forth the organisation's mission, values, and objectives. Identify its major activities.
Stakeholders. Know who is affected by or affects your organisation in all of its activities.
Impact Map. Specify what the organisation does and how it does it; how it intends to achieve its social, environmental/economic mission; and how it plans to live up to its values.
Your indicators. Identify and show progress and identify both intended and unexpected outcomes. Here, you'll prioritise what is most important to measure and choose the ways in which you will see change happening.
Make a plan. Decide on methods for collecting information relating to the indicators.
Collect data. Collecting information can be done in a number of ways as outlined in your methodology or plan.
Analyse information. What the data you collect tells you.
Sharing information. Make what you have learned part of a dialogue or conversation, offering different stakeholders the opportunity to learn from the process and feed their thoughts and opinions into the next round.
Learning & Action.  Use what you have learned part of a plan for improvement.
---
Case Study
You might find it useful to refer to a case study created for a hypothetical organisation –
The Surf Centre
– to  illustrate each step of the proving and improving process.
---
1 Your motivation
Know why you're proving and improving.
Developing your ideas about what is important to measure, frames the work you will do throughout the proving and improving process.
Proving and Improving Tool comparison chart
can help by spelling out some of the available approaches to proving and improving. These can help to identify the various tools and methods that would apply to your organisation, and to see which ones may not be useful given your circumstances and needs.
2 Your vision
Know where your organisation is headed.
Make sure there is an agreed mission for the organisation with key objectives that encompass all the aims of the organisation.
Social, environmental, economic objective
What does the organisation want to change in the world?
How it will go about creating change or benefiting people, communities, society or the environment?
What does it need to do to act in a way consistent with its values?
Enterprise/organisational objectives
What does the organisation need to do to sustain its work financially, or even to create surpluses?
What does it need to do in order to provide high quality goods or services?
What does it need to be able to do internally to be a well-run organisation?
3 Stakeholders
Identify your stakeholders. 
Knowing who your stakeholders are will help you to:
Understand the effects of your activities, whether they were anticipated or unexpected, positive or negative.
Identify, and then respond to, their concerns and the issues they raise.
There are all kinds of ways of doing this – a list, a chart, putting people and organisations on a geographic map, or making a 'mind map' (a technique for arranging ideas and their interconnections visually).
4 Impact map
Mapping it out or creating a Theory of Change. 
This step helps to link your mission, your objectives, and your activities with their results, by thinking through the model for how and why you make things happen. This can be called developing a
Theory of Change
. You can use the Impact Map or another tool to help you to think through how you create social, environmental, or economic change; how you reach your business goals; and how you act according to your values. This process can be simple, using a piece of plain paper, or can be very complex, involving a full strategy map for a large and complicated organisation. This can be the basis for useful conversations both internally and with different people who matter to the organisation. Here are some questions that can arise when an organisation asks how it creates change:
Do our activities really lead to the most important outcomes to reach the mission – are the activities necessary?
Are they strategically important for the social side, the enterprise side, or both?
Can our activities be changed to create more positive benefit, better outcomes or further progress toward our mission?
Do our activities lead to any negative outcomes for anyone? Could a change to the activity, or undertaking a different activity with the same objectives and outcomes, minimise these negative effects?
It's easy to lay out your theory about how you are going to change things in the world; how you are going to achieve your business goals; or how you are acting in accord with your values. The table below gives you the skeleton.
The Building blocks of the Impact Map
| | | | | |
| --- | --- | --- | --- | --- |
| Inputs | Activities | Outputs | Outcomes | Expected Impact |
| Resources of all kinds | What the organisation does | The direct result of an activity | The longer term change is wants to see in people, communities, or areas if affects | Fulfiling: Its mission Its business strategy The values it holds |
This chart can help you think how your activities lead to change if you ask these questions after each column:
Why is that important – how does that lead to the change we want to see?
How do we know?
5 Your indicators
Indicators are an effective way to help you answer the question 'how do we know?'. Once you have decided how to bring about change, you can ask yourself how do you know:
That the activities have happened?
That they have created the immediate results you intended?
That they are leading to longer-term change?
That these longer-term changes will help you to reach your mission in the broader sense?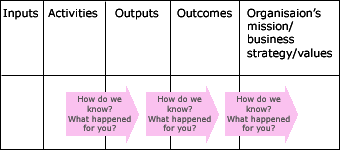 'How do we know?' What evidence there is to show that the expected changes are happening in reality, either on the social/environmental/economic side or on the business side. Use this question as a way to link the columns together in a chain of cause-and-effect relationships.
'What happened for you?' This is another way of linking activities to their outputs, and outputs to the longer-term outcomes. Asking each stakeholder 'what happened for you' as a result of the organisation's activities helps you to find out the expected and unexpected short-term and longer-term results of an activity.
By asking these two questions you will start to uncover the assumptions you are making about cause and effect – and develop indicators of your outcomes and impacts. Developing and measuring indicators can help you to discover whether, and how, your activities use resources in creating the most effective outputs and outcomes, and whether any negative outcomes result from your work.
6 Make a plan
After choosing what's important to know, and therefore what to measure, the organisation needs to decide on its methods for getting the information or consulting with people. This will involve comparing the options based on the type of information you are seeking, the people you seek to consult and the time and resources that are available to get the job done. A reference chart,
Ways of Asking Questions
, in the
measuring impact
section is designed to help you make these decisions.
7 Collect data
Collecting information is an important part of the process of continual proving and improving. This can be done by asking people to report on something that's happened to them, by observing that change has happened, or by using a tool to measure the presence or absence of a change. One way to collect information on the extent to which change has taken place is by using a tool called the Outcomes Star. Originally developed by Triangle Consulting, it provides a means of capturing distance travelled by clients along multiple outcome domains e.g. mental health, autonomy, money. Other ways to collect information include:
Surveys/questionnaires  either created within your organisation or adapted from diagnostic tests or pre-made scales (for an example of a pre-made scale see wellbeing questionnaire)
Interviews – structured or unstructured – either administered by telephone or face-to-face.
Focus groups.
Observation (participant observation, outside/structured usually helps).
People's expressions (diaries, journals, portfolios).
Case studies.
8 Analyse information
Analysing information you've collected throughout any proving and improving process can range from very simply drawing conclusions based on feedback to creating spreadsheets to hold information. You can see examples in the section,
Measuring Impact
.
9 Share information with others
Organisations have a responsibility to be accountable to their stakeholders and enable them to further participate in the planning, implementing and reviewing process. Some choose to engage in a formal social accounting/ audit process. The organisation should also include in its communication an adequate response to stakeholders' concerns and interests, even if it does not agree to or comply with all of them. Many of the methods and approaches explained in the
Tools
section offer ways of reporting back to stakeholders on the issues being examined.
10 Learning & Action
You can, and should, create changes based on what you have learned along the way. When you know if you are meeting certain quality standards, having the effects you intended, or living up to your values, you have an opportunity to change the way you operate, putting new ideas into plans, and making sure the resources to create change are in line.
---