Social Enterprise London's (SEL) version of the balanced scorecard (BSC) was developed expressly to help social enterprises to clarify and articulate their strategic objectives, and decide how they will deliver their multiple bottom lines. It was also designed to give organisations a mechanism to track performance holistically through both quantitative and qualitative information. This is primarily an internal management tool, drawing upon business concepts. Some of the measures the organisation adopts may also be used for external reporting as appropriate.
Summary
The organisation creates a visual representation of the critical elements of its strategy for the social side (social, environmental, and economic objectives) as well as the financial side – or business sustainability. The process helps the organisation to identify the key drivers of achieving success from these perspectives by identifying what key stakeholders want from the organisation, and what processes the organisation needs to put in place for it to deliver these things.
The first step involves creating a strategy map by identifying the organisation's goals, and choosing between two and four key goals to focus on. Underneath these goals, objectives need to be agreed for each of four 'perspectives'.
This is done by asking:
 What are the financial objectives for how the organisation earns and uses resources?
 What are the organisation's key stakeholder groups? What does each stakeholder want the organisation to be? (These are called 'value propositions').
What internal processes does the organisation need to excel at in order to deliver what stakeholders want? These are usually activities that take place across teams or across the organisation.
What skill sets, information technology, or access to networks/information/sectors does the organisation need in order to complete the internal processes?
Sample strategy map: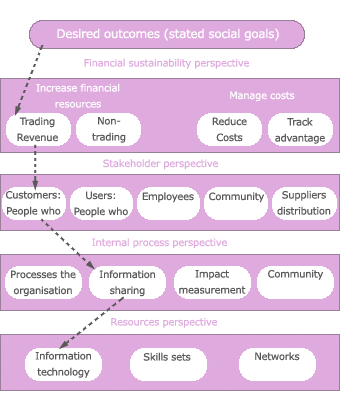 Key: White circles reflect objectives
Dotted arrows reflect cause and effect linkages
Note: this is meant as an example; organisations customise their strategy maps to reflect their goals.
It should be possible to use the completed strategy map to tell the organisation's story on a single side of paper. It will be important to check with members of the organisation if the map fully illustrates their understanding of what the organisation is aiming to achieve and how it is doing so.
The next step involves creating a performance measurement schedule for each perspective, and a line for each objective. This should describe how success is to be measured, by setting performance targets on a relevant time frame and assigning someone responsible for delivering on, and measuring that objective.
This measurement should be undertaken regularly using quantitative and qualitative data, in order to track performance, communicate success to internal or external stakeholders, and check that the strategy is working and that the assumptions that have been made are accurate.
Any organisation can use BSC, including those organisations just starting up. It is particularly good for organisations in transition, such as voluntary organisations transitioning to social enterprise.
Development, ownership and support
The tool was adapted from the work of Robert Kaplan and David Norton, but is not licensed. SEL, in its development of the Social Enterprise Balanced Scorecard has made significant changes to the original work in order to suit the UK Social Enterprise sector. SEL provides support.
Further sources of information
For more details on how to implement the Social Enterprise Balanced Scorecard contact Social Enterprise London.
More information can be found on the original Balanced Scorecard from the Balanced Scorecard Institute website at: www.balancedscorecard.org