NEF developed the SROI methodology in the UK and now NEF Consulting offers a range of products, including a 2-day Social Return on Investment (SROI) training course we have been delivering since 2009.
"Sarah [the trainer] was excellent. She was knowledgeable and understood the process inside and out. I valued how she drew on her own experiences and was able to answer questions that were relevant to me." – Dorry Price, Sustainability and Climate Change Consultant, WSP, October 2018
"A great introduction for anyone wanting to start thinking about using SROI in their organisation." Helen Mayor, York CVS, September 2017
You can read more testimonials at the bottom of this page.
---
The next 2-day SROI course is 2-3 April.
---

ABOUT THE 2-DAY COURSE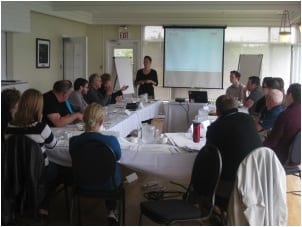 NEF Consulting's SROI training covers all the methodology and practice needed to carry out an SROI analysis. It combines a thorough understanding of the theoretical policy background to SROI and its long-term benefits, with a step-by-step guide to the SROI methodology backed up by a range of practical group exercises.
It is designed to equip participants with the knowledge and skills necessary to use SROI and its findings, and to undertake SROI analyses for themselves. However, as experienced consultants, we can hold your hand through your first SROI analysis or offer you more structured support.
In addition to our 2-day SROI training courses, we offer introductory sessions and high-level briefings for your teams or groups.
---
WHAT MAKES US, AND THIS COURSE, DIFFERENT
We recognise that a full SROI isn't appropriate in every instance – we show how the methodology can be adapted to different situations.
This is the only course in which you will build an SROI model on a spreadsheet, as you would when conducting your 'real life' SROI analysis. It also allows you to see how calculations build up.
It draws on:

The extensive SROI experience of an expert team based at the New Economics Foundation (NEF) and NEF Consulting. NEF co-wrote the Cabinet Office Guide to SROI.
NEF's wealth of experience of measuring and valuing outcomes and the Centre for Wellbeing's latest research into wellbeing measurement.

Our course has a strong focus on group exercises and discussion to ensure transfer of skills and to build understanding.
We offer follow-up workshops to build your skills, such as Creating a Theory of Change.
Post-training support: As part of your training package, you can purchase up to 3 hours email/telephone post-training support for an additional cost of £300 + VAT if taken within three months of attending a course. Or you can purchase 7 hours to be used within four months for just £600 + VAT.  You must purchase the support within a month of attending the course for these special package prices.
We can offer full consultancy support on your SROI analysis.
---
PLEASE NOTE
If you wish to become an accredited practitioner, you will need the accredited course offered by Social Value UK, the official accrediting body in the UK. Both SVUK and NEF Consulting courses teach the same methodology. However, there are some differences in approach. The SVUK course is suitable for consultants wishing to offer SROI analysis as part of their service to other organisations. The NEF Consulting course is suitable for any organisation wishing to analyse, report on, and aiming to improve, its own programmes and services.
---
TOPICS COVERED
The big picture
Setting the scope and identifying stakeholders
Mapping Outcomes
Measuring Change
Valuing change
Understanding impact
Modelling an SROI
Sensitivity analysis, reporting, assurance
All sessions run from 9.30 to 17.00.
---
WHO WILL BE RUNNING THE COURSE?
Christian Jaccarini, Consultant, NEF Consulting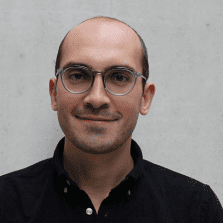 Christian has wide experience in socio-economic research, macroeconomic forecasting, and policy analysis. An economist by training, he has worked with a range of quantitative tools, including input-output modelling and econometrics. Before joining NEF Consulting, Christian worked as an economist for an economic consultancy where he specialised in using valuation techniques, scenario analysis, and impact assessment to consult across a wide range of sectors and industries including property, retail and financial services.
For more information click here.
COURSE ADVISOR
Sarah Arnold, Senior Economist, NEF 
Previously an Economist with NEF Consulting, Sarah has a strong background in quantitative data analysis and econometrics, with specific expertise in exploring complex datasets to gain useful insights. She has worked on many of NEF Consulting's more complex analytical projects. Clients include the NHS, PHE, the Department of Culture, Media and Sport, Shelter, WWF, and the Prince's Trust.
Sarah is an accredited SROI practitioner, and expert in developing and putting into action social value frameworks. She enjoys working with individuals and organisations to improve their skills and enable them to understand concepts that will help them be truly effective. She advises on our SROI training programme.
For more information click here.
---
OPEN TRAINING DATES
PRICES
We have introduced reduced price packages for bookings of 2 or 3 people from one organisation placed at the same time:
Standard price per person: £545 
Booking for 2 people (use booking form) :  £1,060
Booking 3 people (contact us): £1,565
Payment must be received at least 7 days before the course date unless otherwise agreed. *All courses are subject to U.K. VAT. Fee includes refreshments and lunch, as well as training materials.
See our terms and conditions 
---
We also offer:
A 1-day briefing on Social Return on Investment – if you have 3 or more people we can deliver this briefing just for your organisation.
Bespoke training on SROI.  For more details, including costs.
Please contact us at enquiries@nefconsulting.com 
---
Sign up here for occasional updates on training and more. You can unsubscribe at any time.
---
Testimonials
"It's an excellent course that explains SROI in plain English using practical exercises and signposts to useful resources." Catherine Kennelly, Projects Officer, Maldon and District CVS, October 2019
"I've been trying to undertake an SROI following the guidance book but it wasn't until I did the course that I actually understood it!" Kat Algar-Skaife, Research Officer, Bangor University, June 2019
"Very informative and useful – the training is a great way to understand and quantify our social impact." Rhiannon Maniatt, Monitoring & Evaluation Officer, October 2017
"[The training] was very helpful, well-paced and covered lots of ground. I feel well equipped to start and SROI myself" Catherine Hurst, Natural Futures Manager, Cheshire Wildlife Trust, September 2017