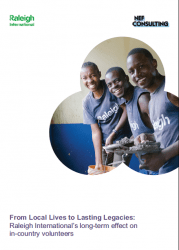 Following extensive research and first-hand interviews across Namibia and China, NEF Consulting and Raleigh International have released the findings of a study into the benefits of volunteering for participants in a long-running programme.
The study found significant improvements to the personal development of volunteers who took part in Raleigh's Expedition programme, which has been running for 30 years. The programme brings together a diverse group of volunteers aged 17 to 25 from various cultural and socio-economic backgrounds around the world.
Volunteer alumni who had completed the programme years or decades previously reported a range of benefits, including better self-esteem, teamwork abilities and civil engagement. Both the Namibian and Chinese volunteers reported developing a wider world view and better understanding of other countries and cultures.
Click here to find out more about the study and read the full report.