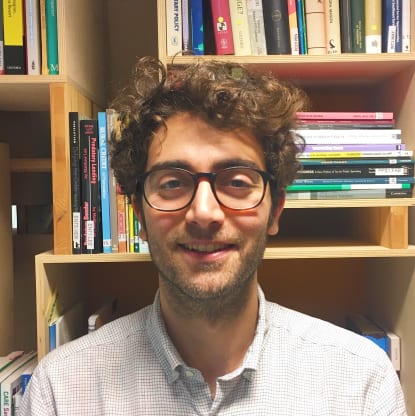 ASSOCIATE
Yiorgos is an architect and urban development consultant with experience leading participatory workshop-focused projects that bring together local authorities, academic institutions and communities to address socio-economic challenges our cities are facing.
Yiorgos is a strong believer in the transformative powers of planning and design, passionate about the relationship between space and society and committed to an urban development that is socially just and environmentally sustainable.
Yiorgos has worked with NEF as a consultant. Before this, he founded and directed Urban Transcripts, producing international public event programmes – exhibitions, workshops, and conferences – on the critical exploration of cities and their development (Athens, 2010; Rome, 2011, London 2012; Berlin, 2014). He has lead urban design workshops in Dubrovnik, dealing with the challenges an increasingly tourism-led economic model poses on the city, and in Athens, on the role of public space as a catalyst for broader social and economic processes.
He has been a lecturer in Umea School of Architecture, Sweden, an advisor in EU-funded project UrbanIxD, and a peer reviewer in Urban Design International. He has initiated and is the current Editor-in-chief of The Urban Transcripts Journal, a peer-reviewed journal on urbanism. Yiorgos qualified as an architect from ENSA Paris-La-Villette, Paris, he holds an MSc in Advanced Architectural Studies – Space Syntax from The Bartlett, UCL, London, and is currently completing an MSc in Urban Development Planning, in the Development Planning Unit, UCL, London.