Case study: Prince's Trust: 40 life-changing years
Over the last 40 years the Prince's Trust has helped change the lives of hundreds of thousands of disadvantaged young people across the UK. Today, three in four young people on their progammes move into work, education or training. The Prince's Trust commissioned NEF Consulting to evaluate the impact of their programmes over the last ten years, using an SROI methodology.  We were able to demonstrate they have created £1.4 billion in value to society in this period.
The calculation assesses the return on investment of getting young people off benefits, helping to stop re-offending, supporting young people to achieve at school and considers the relevant savings to the public purse.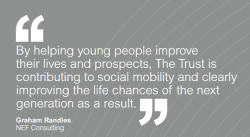 Key findings
The Trust has returned £1.4 billion in benefits to society through its help for disadvantaged young people over the last 10 years alone

The analysis looked at The Trust's benefit to society across the UK:

England – £1,066 million
Scotland – £145 million
Wales – £102 million
Northern Ireland – £87 million

A value of more than £400m is attributed to The Trust's work supporting young people into employment over the last 10 years
The Trust's work helping young people to access education, and the increased income potential associated with this, has resulted in more than £100m of value created over 10 years
The findings are based on a robust social return on investment methodology which makes an assumption about the number of young people who would have come off benefits anyway, for example.
Download the report here.