AUTHOR: Fiona Percy, CARE International and NEF Consulting. 
CARE International commissioned NEF Consulting to analyse the costs and benefits associated with investing in climate change adaptation in Dakoro, Niger. In the face of climate change, development policy will need to embed adaptation in its core development strategies. One of the key approaches is community-based adaptation and our research aimed to test whether it is an efficient and effective strategy for building resilience and adaptive capacity, and to what extent. 

CARE International's Fiona Percy wrote in her blog:
How can communities in developing countries, which are particularly vulnerable to the impacts of climate change, access the resources they need to cope with and build resilience to the climatic threats they face? And how can they successfully plan for and implement community-based adaptation initiatives that deliver positive results?
For many of the communities CARE works with, the answers to these critical questions cannot come soon enough. As the recent climate impacts report from the Intergovernmental Panel on Climate Change showed, not only are people living in poverty already bearing the brunt of rising sea-levels and more extreme and erratic weather, but as global temperatures rise, development gains made over many years in Africa, Asia and Latin America are increasingly at risk.
Back in 2010 – and in partnership with communities in Kenya, Ghana, Mozambique and Niger – we set out to investigate these issues. CARE's Adaptation Learning Programme for Africa (ALP) was born.
Among many other things, we wanted to show policy makers that community-based adaptation is not only a cost-effective response to climate change, but that it brings  a multitude of positive development benefits. Now, four years on, we're starting to see some encouraging signs that this hypothesis holds true.
Take, for example, the pastoralists we've been working with in dryland areas of Kenya and Niger. They are already grappling with the challenges of living in fragile ecosystems, including land degradation, successive years of drought and conflict over scarce resources, which are being directly exacerbated by the impacts of climate change. In short, they face a tough battle.
Multiple benefits
Our latest research, conducted with nef consulting, showed that CBA can make a positive difference in such areas. Using a study with two communities in Garissa, Kenya, to project the benefits of CBA under different climate scenarios into the future (2010-2030), and in-depth research carried out in four communities in Niger using three years' worth of data, researchers found that CBA delivers a full range of benefits to these pastoralist communities.
They were also able to demonstrate that CBA makes strong economic sense, leading to social, environmental and economic improvements even in a volatile and evolving environment such as dryland areas.
In Kenya, the study showed that under the most realistic scenarios, investing £1 in CBA generates between £1.45 ($2.44) and £3.03 ($5.09) of wealth for communities. These figures were further validated by the results from the evaluative study in Niger, which suggest that for every £1 invested in CBA, returns of between £4 and £6 are likely even across a range of climate scenarios. Even when the analysis is limited to economic benefits only, returns on every £1 invested are between £2 and £2.80.
In the most conservative scenario, the costs of intervention were 2.6 times lower than doing nothing to counter the impacts of climate change and extreme events.
In Niger, CBA was also found to increase revenue from both agricultural and livestock activities, with communities experiencing a 40 percent increase on average in agricultural returns since 2010 even though productivity has not increased significantly, and livestock headcount is decreasing.
In the case of agricultural revenue, this is thought to be due to the 'warrantage' system – an adaptation strategy involving pre-payments or loans for stored harvests, with farmers able to sell their produce or repay their loans when prices are higher.
The boost in revenue from livestock can be attributed to higher value being placed on the health of herds, with more money spent on vaccines and food supplements.
'Soft' outcomes
These changes also reflect a growing level of 'adaptive capacity' in communities – put simply, people's ability to adapt to the impacts of climate change – through shifts in traditional attitudes and practices, as well as decision-making processes that are more flexible and forward-looking.
Alongside economic benefits, the study also pointed to better social and environmental indicators – on improved health and education, more decision-making for women and reduced deforestation and land degradation.
It is important to recognise that 'soft outcomes' like decision-making ability and risk management are as important as 'hard outcomes' such as rising agricultural revenue, in building adaptive capacity. In fact, these 'soft outcomes' are pre-conditions for continued benefits into the future, as they enable communities to have the flexibility and responsiveness needed when living amid constant uncertainty.
Finally, the research makes it clear that CBA delivers higher returns on investment compared with other interventions – certainly higher than for those that aim only to reduce disaster risk. This is particularly relevant for dryland communities, where a large proportion of existing investment goes towards disaster risk reduction (DRR) and emergency preparedness.
So, it's encouraging news all round. We now have overwhelming evidence that community-based adaptation works – which suggests that it should become a priority for investment, both in national development budgets, and in international finance for climate change adaptation.
We have started to demonstrate the value of CBA as an approach that integrates adaptive capacity, more resilient livelihood options and DRR, so that the communities we work with can better adapt to climate impacts in the long term. And we have found that people doing CBA and DRR can benefit greatly from joining forces.
Perhaps this is the 'long answer' to some of the critical questions being considered in Kathmandu this week. But given the growing scale and pace of the climate change threat, we need all the intelligence we can get if we're to make a tangible difference to people who are already experiencing its impacts.
Fiona Percy is the coordinator of the Adaptation Learning Programme for Africa (ALP), implemented by CARE International in Ghana, Kenya, Mozambique and Niger. For further information: www.careclimatechange.org/adaptation-initiatives/alp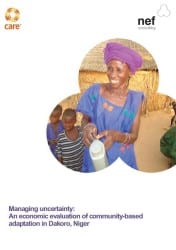 For a summary of the report click here.
Download the full report here: An economic evaluation of community-based adaptation in Dakoro, Niger
Download guidelines for simplified cost-benefit analysis: nef consulting has also produced a set of guidelines aimed at building the capacity of economists and planners to carry out cost benefit analysis, assess the effectiveness of different climate change adaptation and development interventions, and to budget for adaptation actions.  You can download it here: SCBA analysis of climate change adaptation projects